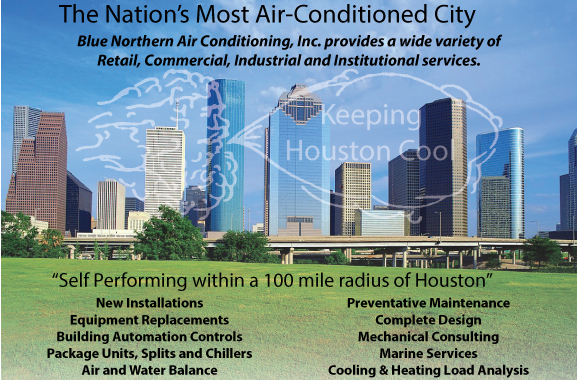 Latest News
Blue  Northern Air Conditioning, Inc. was  incorporated in 1984 in the State of Texas.  Our facility is located 10 miles east of downtown Houston on Interstate 10.
Blue Northern Air Conditioning holds two class A air conditioning licenses by the State of Texas TACLA000242C and TACLA46089C. Blue Northern Air Conditioning, Inc is a Women's Business Enterprise certification # 2005110792.
Our general management philosophy is to attempt to be skillful managers and utilize the most modern methods, equipment, and ideas to effectively manage the company and to adhere to ethical practices which practically stated means that we will never knowingly do dishonest or deceitful things and to be truthful in all of our dealings.  It shall be the policy of this company to support our customers, community, and employees as a good corporate citizen.
Our expertise includes design, installation, and equipment service.  Our range of service includes colleges, schools, off shore rigs, chemical plants, churches, and retail establishments.
All service technicians are refrigerant certified as required by 40 CFR part 82, subpart F.  All our employees are polite, competent, and professional.
Employees attend factory sponsored training programs (Carrier, Trane, Lennox, etc.).  We also conduct training in our classroom at our location, as well as, hands on training on our own commercial rooftop, split, and chiller systems.  We believe it is this strong commitment to training that places our employees above the rest.

Blue Northern Air Conditioning, Inc. was awarded "Vendor of the Year" and "Educational Excellence" at the 2002 Professional Retail Store Maintenance (PRSM) national convention.
Thank you for considering Blue Northern Air Conditioning, Inc. for all your air conditioning needs. 
Blue Northern Air Conditioning
Address
Channelview, TX 77530
---
Phone
Local (281) 452-9663
Toll Free (888) 692-2622
---
Fax
(281) 452-5256
---
Email
This email address is being protected from spambots. You need JavaScript enabled to view it.